The Handpresso Wild: My Review
by NDJollyMon
My Handpresso Wild arrived today va FedEx from France. It was double-boxed...and very nicely done, I might add.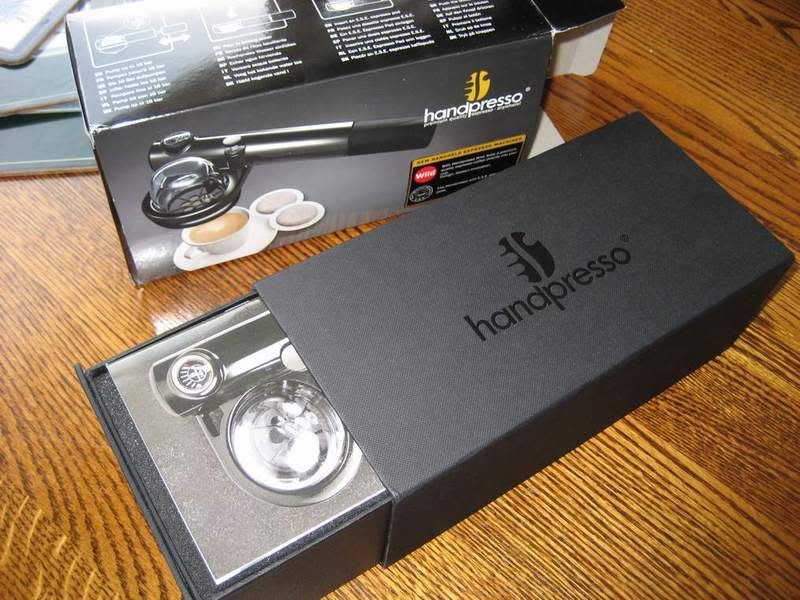 Handpresso Wild is a portable, single serve premium espresso maker that can be taken virtually anywhere. All you need is 2 oz. of hot water, an E.S.E. (Easy Serving Espresso) coffee pod, and the Handpresso. It's less than 9 inches long, and weighs in at just over one pound.
It looks similar to a short bicycle pump, and works in much the same way.
My first impression: Very high quality, tough and durable materials. This is not some cheap piece of plastic...this thing is very well built.
There is a hand pump capable of 16 bar, and a removable portafilter where you put the pod and add hot water.
Using it is very simple. You unlock the pump handle, and pump it to 16 bar on the gauge. You then unscrew the portafilter, pour hot water into the reservoir (1.76 fl oz) and place an E.S.E. pod in the holder. Screw the portafilter back on and you are ready to dispense espresso. Just hold it over your cup, and push the start button. It immediately dispenses your espresso shot.
My Results:
These results are currently based on my one day use. I'll update this thread as necessary when I put it through more tests.
Today, the only E.S.E. pods I could find in this town were at Starbucks. Apparently, these pods are quite popular...as all 3 Starbucks in town were sold out. Lucky for me, the truck came in and I was able to get a couple boxes. They only come in regular (Dark) and Decaf (Dark).
I used the regular.
I heated a container of water to around 195 degrees F, and another container of milk to 145-150 F. I then put the milk into my Bodum French Press and frothed it a bit with the plunger. (IE, I don't have any fancy milk frothing gadgets...yet. Taking advice on them now!)
I pumped it to 16 bar, (about 40 pumps) put the water into the Hanpresso, popped in a pod, and flowed espresso. I added some Vanilla syrup, then some milk and froth. I topped it with some cinnamon and handed it to my wife. She said it was GREAT! She told me it tasted just like a Vanilla Latte at Caribou Coffee. (her fav) I then removed the pod, and reloaded the Handpresso for another go. Mine was just as delicious...and my wife was right. It really was good. I made 2 more cups and the results were the same. I tasted the espresso with no additives, and it was very strong. I can't wait to try some other ESE pods in this gadget.
Conclusion:
This thing makes a great Latte! The Handpresso is very well made, and makes a great addition to the SSC collection. I really like the fact it's totally manual, and can be taken anywhere. There is virtually no clean up with this device. Handpresso scores big with this new, innovative way of making espresso drinks....anywhere!
See more about it or order one here:
http://www.handpresso.com
EDIT:
Made a few more drinks, with much success. One thing I might add: Be very careful (as the directions state) to purge all the air from the Handpresso using the Stop button before removing the portafilter. The pressure left can propel the portafilter a long way!